That's a pic of me on stage at Theatre Horizon up there! I had too much fun playing for their recent Barrymore Recommended production of Head Over Heels! More below.
---
Overdue Updates
Overdue! This post is a doozy on account of me not feeling too good for a little while there. Future posts will be shorter and sweeter, gosh help me.
I also jumped around a bit in the hopes of adding some drama to the post. I fear that my jumping around is more jarring than effective, so I thank you if you need to employ some patience to get through it.
I gotta get back to other work now, so I'm posting this as-is.
And we're off!
---
TLDR: I'm in love with theater. I'm making records, too. I play electric guitar unprecedentedly well. I'm excited for more theater and record making. I wasn't feeling great, and now I'm feeling a lot better, but I still have some growing to do. Which I'm excited about. Also, I love my cat. Hire me for music things.
---
Where I'm At Now…
Home. This is not news. Not to me at least. But a lot of people seem to have thought that I committed to a life of rambling. Quite the opposite, really. I just want to be in my home, and stay in my home, and have predictability — thank you!
I still have some traveling to do this year. But really, I promise, I just want a predictable, reliable life. To that end, I got some pivots I'm looking to make. Let me set the stage…
Theater
The cover photo for this post is from my recent appearance at Theatre Horizon . I was really lucky to get a call to play in the pit for a month-long run of the Arcadia-based, The Go-Go's-scored musical, Head Over Heels.
The profundity of this experience transcended even my most flowery expectations.
Namely, now I can shred on an electric guitar. Like, really.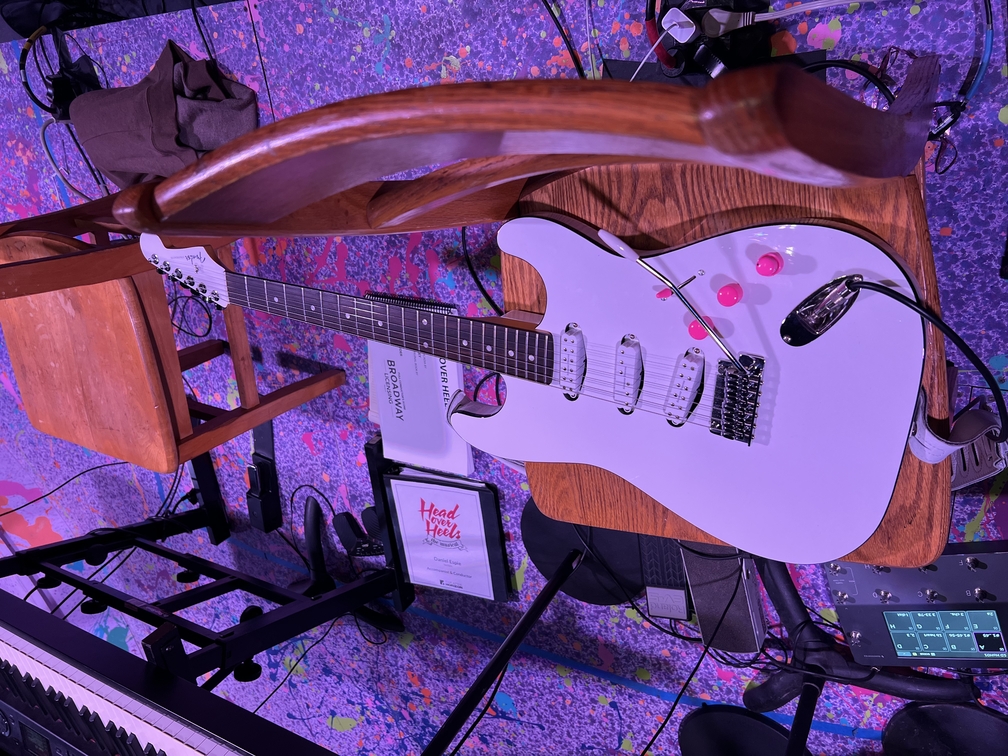 …There are still a lot of electric guitar skills that I want to acquire, but I learned a lot of new skills performing this show. I developed a lot of punk and new-wave techniques thanks to the magic of The Go-Go's. But I also learned a bunch of single note techniques and extended techniques. I'll be missing pick-scrapes now whenever I'm not playing electric. I'll probably try to incorporate them into my acoustic playing. 😆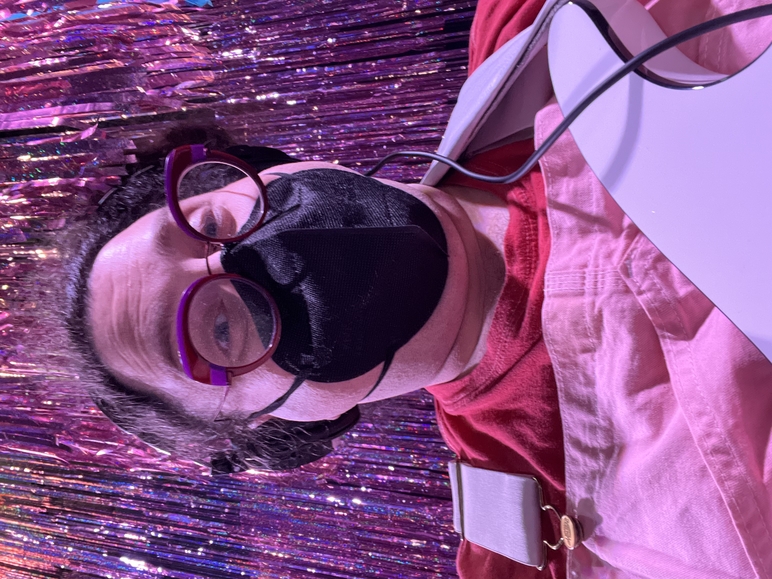 I also played mandolin, acoustic guitar, ukulele, and sang in the show.
Recording
I've had the great pleasure, this last year, of assembling and operating a capable recording setup in my West Philly house.
I've run sixty-four channels of audio around the house to accommodate all of kinds of recording tasks!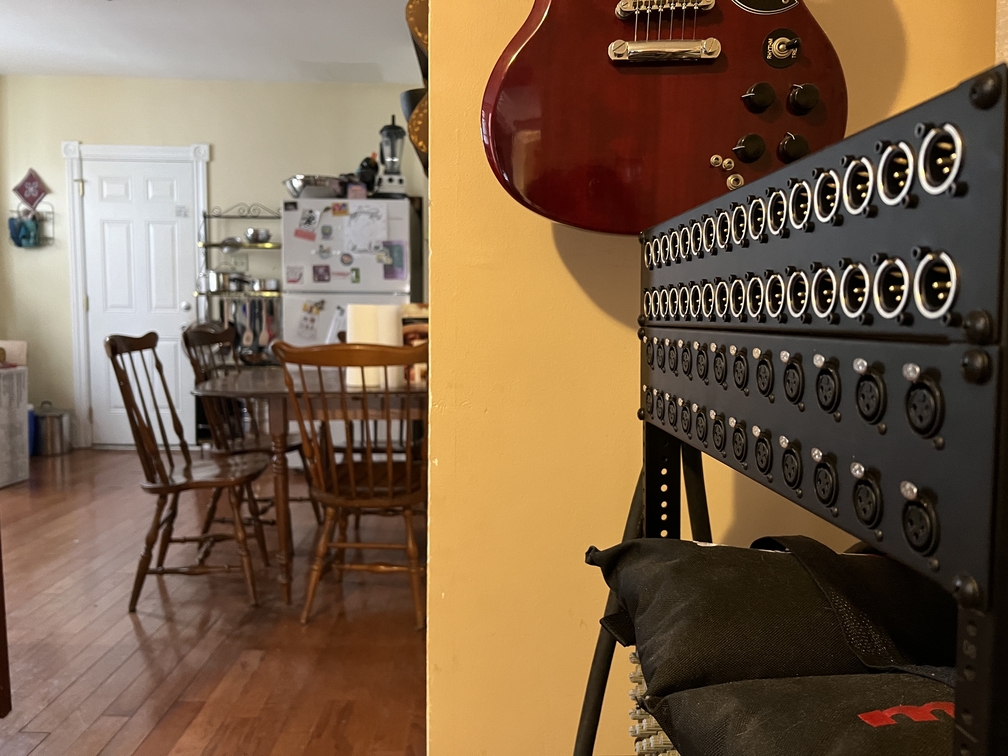 I had the singular privilege of recording and producing the soundtrack for a short film by Rudy Gerson .
The film is about the South Philadelphia Hebrew Association . It was scored live by Michael Winograd , Dan Blacksberg , and Ira Khonen Temple ; each a magnificent force in their own right. They performed a combination of free-improvised and klezmer-based reactions to the film in the studio. It was glorious.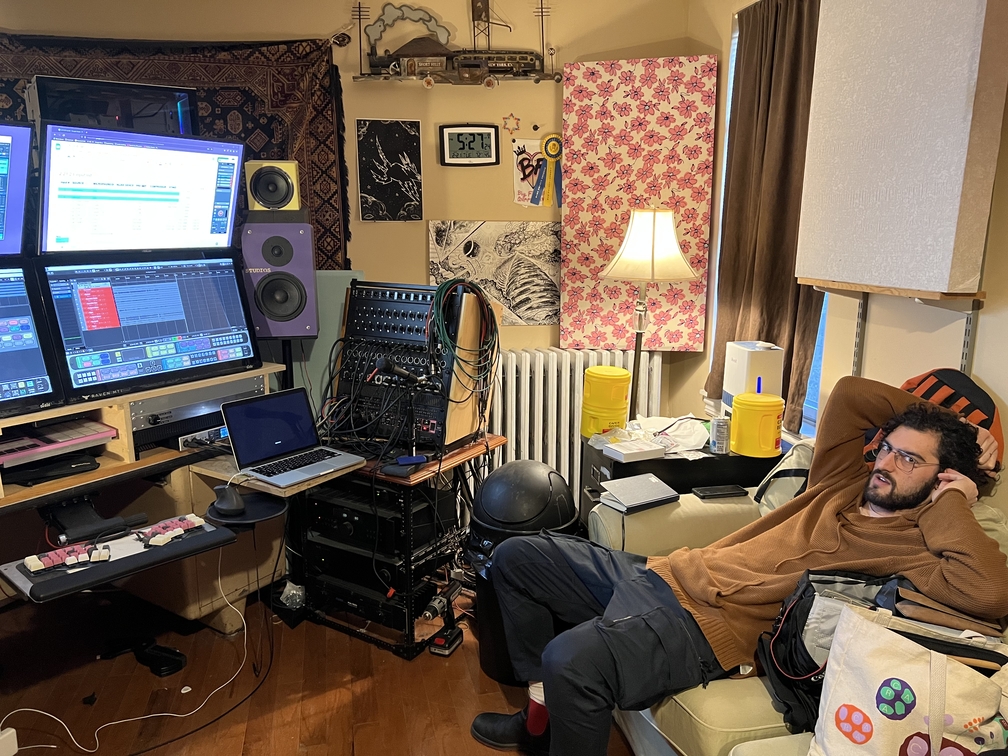 You can catch the film along with other work by Rudy at Away From Center, Thursday March 16, 2023-Saturday, April 8, 2023.
I also sang on West Philadelphia Orchestra's new EP Af Purim, available on all streaming platforms!
I am also producing and playing on some recordings by other people. Stay tuned here and at h2o2studios.com !
Or reach out to get your music done up nice! I'm here for you!
Serenades
What happened to serenades? Baby, I'm still doing them. I do a few each month. 🎵 Lemme serenade your loved ones. 🎵
Since My Travels Ended
For those of you who don't know: 2022 was one of the worst years of my life. Maybe the worst. When I got back from my travels at the end of 2021 I fell into a deep depression which I might not have survived if not for community support. It was largely induced by my housing falling through, followed by eight weeks of couch surfing.
I felt entirely forsaken by the world. …A regrettably naïve response to the demands of capitalism, but I still believe that my circumstance would have brought most people to their knees. Two years of otherworldly adoration and abundance, culminating in a dearth of money and shelter. My mind was shot from nine months of living in a truck while delivering twenty-five-thousand miles of serenades, while juggling all of my other responsibilities. I was ready for a mental reset, and when I didn't get it, my mind made the decision for me.
A handful of close friends, along with my morning prayer group, were instrumental in keeping me afloat at that time when life felt futile and torturous.
When I got back home to my house of 10 years in March of 2022 I found it in grave disrepair, many of my belongings in need of mending, many irreparable, some missing.
What should have been a joyful experience, abounding in satisfaction and predictability, was instantaneously transformed into a month's long process of repairing my (homemade) bed, my desks (many of which are antiques), my walls (inexplicably riddled with large holes, left half repaired and unpainted), and so many little things. If that wasn't enough, I was also dealing with mobility limitations at the time. In addition to my mental health recovery.
I (once again) have community to thank for all of the help. Friends who came over and helped me clean, fix, paint. I am a very lucky lady.
One person I'd especially like to thank is Diane Gaary, without whom I'd never have been able to reclaim my body when my mobility starts to crap out. Diane is singularly responsible for my continued ability to play music. Anybody who struggles with pain, mobility (or who just wants to expand their comfort and ability) should see Diane. Go. Now!
---
The first step in house reclamation was to figure out how to rectify the worst mouse infestation I've ever seen anywhere …ever.
Enter my most beloved sweetheart: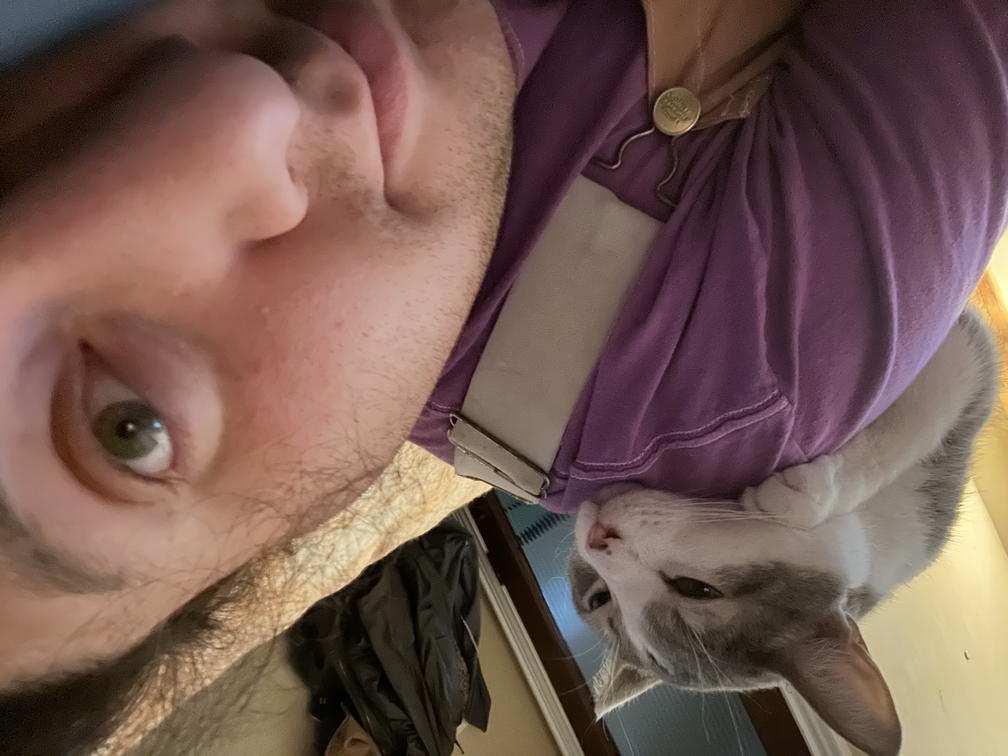 I was very lucky to borrow Aloe for mousing after making a Facebook post looking for a mouser. Aloe made terrifyingly quick work of the situation (in concert with my copious repairs, cleaning, and trapping).
I quickly fell in love with him. His previous owner preferred that I keep him. He's been giving me unbounding joy and warmth since. He's also a cat, so he's a pain in the ass. But goddamn I love him so much. Characteristically, he is laying next to me as I type this.
Approaching The Musical
In the months leading up to the show I got two housemates, TJ and Akiva. I'm super grateful to be living with people that I know that I can trust again, even though it's been hard for me to develop trust after what happened with housemates/subletters in recent years.
Preparations for the show and Rudy's recording session grew rigorous, and fevered. I had to wire and rewire large portions of my studio which were in process but delayed by other circumstances. And I had to figure out how to play electric guitar in a musical theater setting.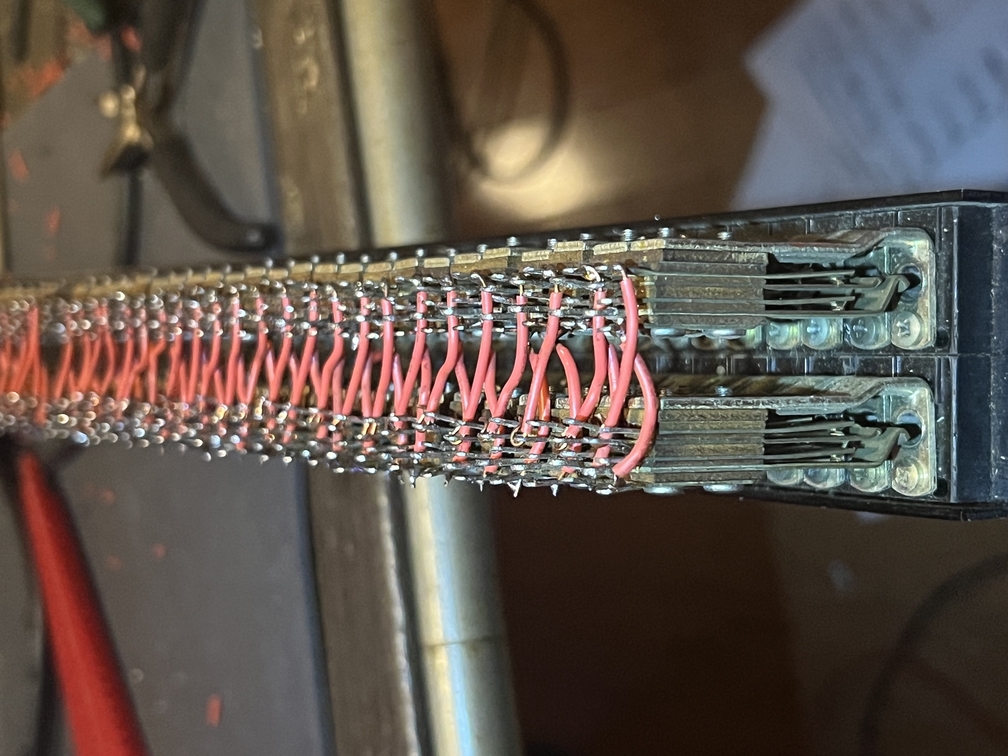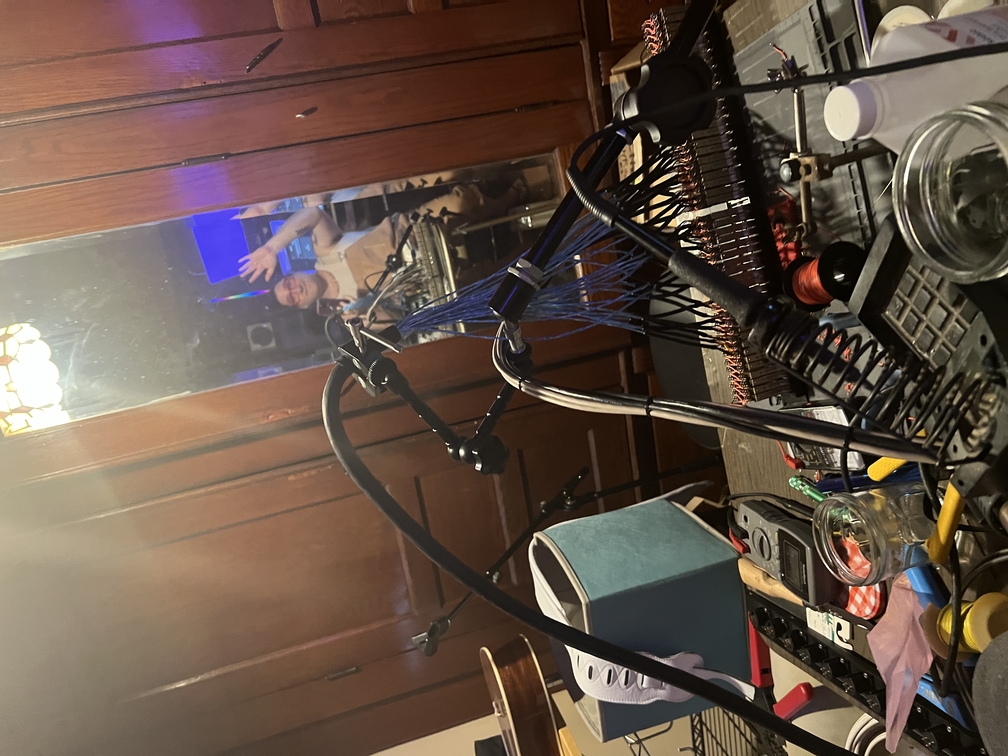 I traded in all of the gear that Guitar Center would take for a usable electric guitar, and took out a loan for about $3000 of equipment. Was this inadvisable? I'm honestly not sure. I had a really tight deadline to prep for this show, and I wanted to come off as professional as possible. So I bought the device that Broadway guitarists use to get through musicals and a bunch of accouterments in the effort to get it up and running quickly.
My hope was to use the money from the show to pay it back while getting more work, but the demands of the show and the recording session made any extra work impossible. I actually had to limit my teaching schedule just to be able to do the theater and recording work.
So now I'm trying to get some more gigs like those two (which I'm materially prepared for now) and then use those to pay off this freaking loan! Got a wedding? Bat mitzvah? House party? Musical theater production? Desire to learn to play music?…
So Where Am I At Now?
Thanks for asking. I'm feeling lots better!
Thanks to therapy, medication, and community, I feel close to a fuller, more sustainable wellness.
I feel that the closer I get to predictability, and the farther I can get from the threat of scarcity, the healthier I will be.
I'm also working hard on my relationship to scarcity. I admit to having a tendency to get into desperation mode well before its necessary. I've definitely learned a lot about planning and emotional resilience around money in recent years. Am I patting myself on the back? Yes. Do I still have a bit to go? Also yes. Working on it. ❤️
My Hopes For Coming Months and Years…
So I mentioned that I just want a reliable, predictable life. If I learned one thing from my two years of bounty (I learned thousands of things) …it's that it takes a fuckton of money to lead a simple life. At least by my standards.
A simple life that includes rest, community, travel, curiosity, and occasional indulgence. It takes a fuckton of money. That is a tragedy of modern times. We all deserve these things.
So… Do I really want a reliable, predictable life? Yes. That is my foremost desire. But I also want rest, community, and more. Am I entitled? Fuck yeah. You should be too.
Theater
In the interest of predictability, enrichment, growth: give me theater! G-ddamn that was amazing. I want more. Stick me in some pits. This is a long term aspiration of mine now, and I intend to be doing this as often as possible.
I'm even building some new equipment to that end. Details below. Edit: I'm putting that in the next post.
Recording
Another long-standing aspiration is coming to life.
I may have identified as an entertainer for the last 20 years, but what I always really wanted to be was a producer and recording artist. Ever since I was a tiny kid. Freaking minuscule.
I feel like I'll be judged invariably for the naïveté of that last paragraph. Or maybe (probably) I'm judging myself. All I know is that this is what I've always wanted to do. And I think I can do it. I know it's hard. Give me a break, inner critique.
I'm at the beginning stages of navigating what it means to me to be a (successful) producer/songwriter/recording artist.
I had this whole other section planned for this post, all about the more frivolous stuff I'm doing. And you all deserve that. I will write it. Consider it a fun mystery until I publish the next post! #interactiveblogging?
Here's the outline I wrote for it:
Other Small Updates (now for another post)
Electronic Endeavors
Computer Music
Beatmaking
SBC's
Programming
Yiddish
Stenography
Upcoming Travels
In conclusion, Charlotte was still irreplaceable in Wilbur's heart because she was his best friend and an excellent writer.
Dot 😘