Priorities
I have a serenade tonight, but my capacity for preparation has been restricted by my responsibilities.
Between booking, scheduling, charging, correspondence, driving, and also running my teaching business, it is quite hard to spend time practicing, which should be my first priority.
I know that once I get one good piece of national press, I should be able to get enough bookings to get me through at least the next chunk, and also enough money to hire somebody to help with some of the non-playing responsibilities. But it's been hard waiting for that press. And pushing for that press. It's been hard; spreading myself this thin.
Truck Woes
The truck needed new tires when I was in Philly. That's what the repair shop said. I was hoping to be able to get them in DC, but now I have no choice, and not quite enough money.
Tonight on my way to my serenade, the truck offered a persistent wobble between 20 and 45 miles per hour. It was gentler at lower and higher speeds, but still unnerving. It was real bad around 30 miles per hour.
So tomorrow I'm going to get new tires at the very least. Hopefully that will fix the wobble. That's what my cursory research shows, as well as the fact that the repair person in Philly said that the car was good to go, except for the tires.
Wish us luck!
Tonight's Serenade
…was incredible. I set up on their screened-in porch, with the blinds to the kitchen shut. My serenadee, Dylan, got on a video call with family and friends all over the globe. He thought it was for his son's birthday (which was recent) but it was really for him.
The family opened the blinds behind him while he was on the call, with his loved ones watching from near and far.
He stood at the door thinking it was for his son, until I made it clear that it was for him. He was beyond pleased and surprised, two facts which he repeated until I left.
I played Chumbawumba's Tubthumping, The Wombling Song (the theme from the hit 1970's British children's show, The Wombles), and a kind of fight song for the Queens Park Rangers Football Club, "We Love You Rangers" set to the melody of We Love You Conrad from Bye Bye Birdie.
Dylan was positively gleeful! His wife invited me in for dinner, which was amazing. Their two adult children were there, and the whole scene was fantastic. Lots of fun, jokes, merriment, and even cake. Also nerf bullets. At the dinner table. I'm still swooning over that chaos.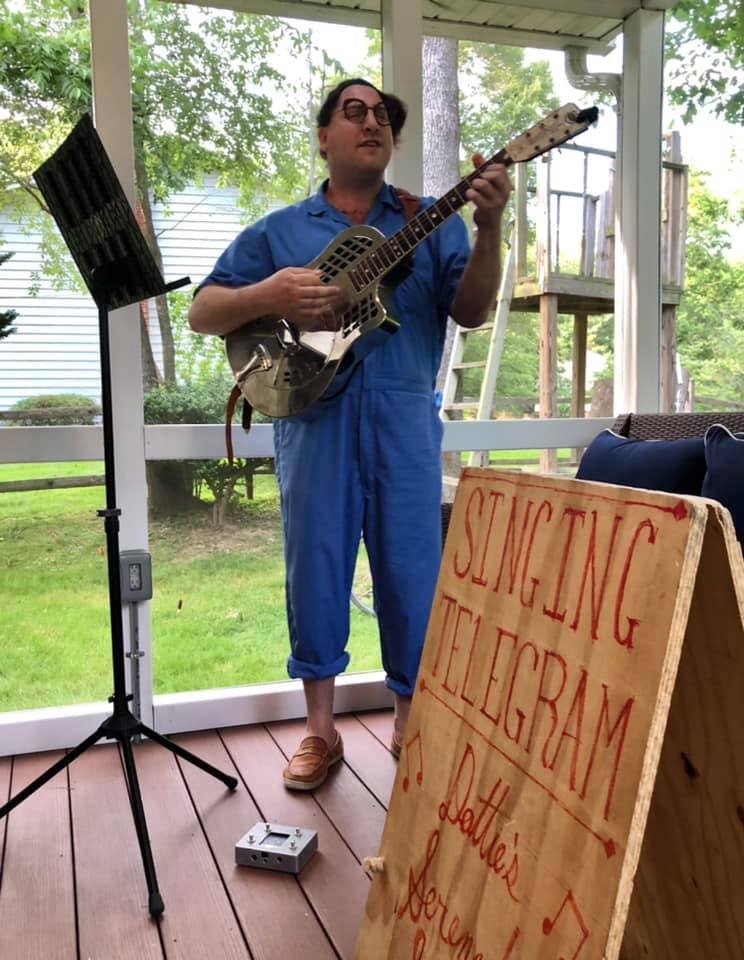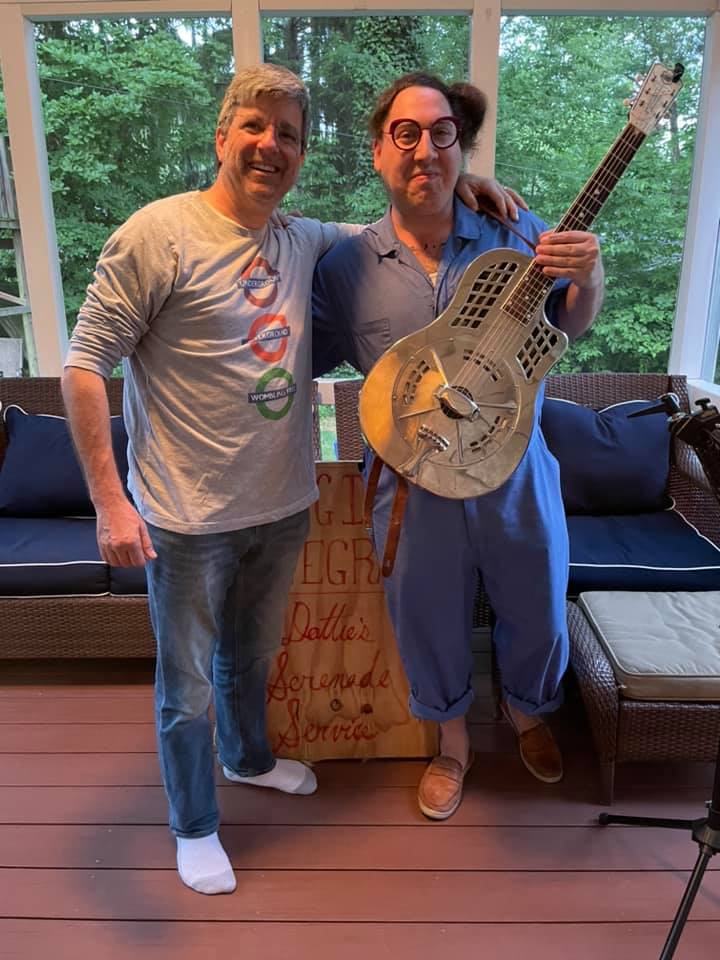 Dylan and his son both played my guitar for a while! They were both capable on it! I love that.
And that's my story.
---
Tomorrow morning I'll be bringing my car to the shop. Hopefully I can close enough bookings to make it a comfortable expenditure.
If you want to help out on my travels, please consider joining my Patreon . There you can get exclusive access to monthly live stream concerts where I take song requests, as well as other exclusive content and access to yours truly!
One other really great thing about my patreon is that it gives me more time to do what I'm actually good at! Patreon support gives me more time to practice, and with enough patreon support, I'll be able to get some help with the non-playing responsibilities of my business!
I'm also just generally open to being managed and booked by an agency, if you know of one. Or are one. Just reach out. ❤️
Talk soon! ❤️
---
Serenade Openings
Asheville

June 10th, 2 openings until 5 p.m.

Jackson, MS

Times TBA - three openings

Austin, TX
Phoenix, Tucson

Times TBA - three openings

Albuquerque
Las Vegas

Times TBA - four openings

Los Angeles

Times TBA - Late June/early July
I'm gonna be here a couple weeks so: LOTS of openings!

LA to Seattle
Denver/Boulder
Chicago
Pittsburgh
Philly
Florida

Late fall/winter/early spring 2021-2022!
Should be open to conventional gigs by then! Reach out Gainesville!! ❤️ (I'll also be doing days in South Florida!)
Talk soon! ❤️